"Even when our company was just getting started, and we were taking advantage of XMission's excellent service options for emerging businesses, I always found the staff to be extremely professional and responsive to our needs."
- Carl Richey, president
Justice Works
Our Network
A fast, diverse network that can handle anything.
"Even when our company was just getting started, and we were taking advantage of XMission's excellent service options for emerging businesses, I always found the staff to be extremely professional and responsive to our needs."
- Carl Richey, president
Justice Works
Network Map
A visual representation of our network.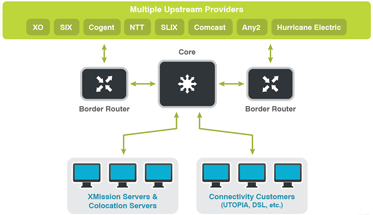 Download PDF
With more than 100Gbps of network capacity from multiple upstream providers, XMission's large network easily handles traffic for even enterprise businesses.
Because of XMission's longevity, we have established strategic peering agreements, giving your data the shortest possible paths. Businesses benefit from fewer hops and lower latency, giving them a competitive edge when every fraction of a second matters.
Should any issues arise in an external network, our diversity allows us to quickly route around the problem. In the event of a fiber cut or facility outage, XMission will maintain uptime through our well-distributed IP connectivity.
Network Facts:
Automated 24x7 monitoring, which immediately notifies oncall networking experts about any issues
Main POP and colocation facility located in downtown Salt Lake City, Utah
Multiple peering agreements
Redundant network border and core using carrier-grade routers
SOC 2 Certified
PCI DSS Compliant
Local CDN Cache servers (including Netflix, Google, and Akamai)
POPs in data centers across Utah (including C7, L3, UTOPIA, Edgeconnex)
Upstream Network
NTT—10Gb
Coresite/Any2—30Gb
Cogent—10Gb
Edgeconnex—20Gb
Seattle Internet Exchange (SIX)—20Gb
XO Communications—10Gb
Comcast (only DC in Utah with full Comcast routes)—1Gb
Hurricane Electric—20Gb
UTOPIA—fully redundant 80Gb ring
Hosts and operates the Salt Lake Internet Exchange
IPv6
XMission is committed to delivering services over IPv6 and has successfully transitioned many services to this new protocol.