Self-Service Tips During Longer Hold Times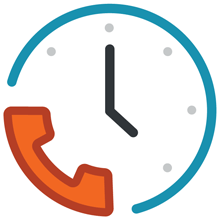 Recently, XMission has seen longer than normal support hold times in spite of our best efforts. If you experience the following common problems, we encourage you to try some preliminary self-service support.
Issues connecting to the Internet
Here are some troubleshooting steps to get you back online.
Please disconnect the power to your personal wireless router (This does not include the UTOPIA provided equipment) for at least one to two minutes and plug it back in. This typically resolves most connectivity issues.
It is also important to look at your wireless router and see what your LED Lights indicate. Typically, if you have no LED or red/amber LED for the "Internet light," (this can be the router logo or a light that has a ring swooping around a circle) your router is unable to connect to XMission. If your LED Internet light is white/green, you have a solid connection with XMission. You can also refer to your router's user manual to see what each LED light color indicates.
Poor Internet performance
If your primary Internet connection is over a wireless device XMission cannot guarantee full Internet speeds. However, we can do our best to optimize your home or business connection.
Due to the current pandemic, XMission understands how essential a reliable Internet conneciton is for telecommuting. Our admins have worked extensively to ensure we are always prepared for changes in usage patterns and to guarantee the performance of our network. However, if you are required to use a VPN or change your default Internet settings to be able to work from home, we recommend that you use a device that is plugged directly in to your router. This will give you the best results and stability.
If you are having any performance questions we ask that you take a moment to use our XMission App for Android and Apple smart devices to run self-diagnostics and get help in optimizing your wireless Internet. Our previous blog post will walk you through how to download and use the app.
Trouble accessing email
Email clients, such as Microsoft Outlook, Mail on Mac, or Thunderbird are not your XMission email service. If you are receiving any kind of error within these programs, it typically means there is a communication issue between the email client and XMission.
When receiving errors we suggest looking at the knowledge base for the email client software you are using to help locate and diagnose what is causing the error:
You can also use webmail to send and receive email if you are having issues with your email client. To log into XMission's webmail:
XMission also provides an extensive online help page for our email services.
Email passwords should also be updated yearly. If your email client alerts you that your password is not valid, it's possible that XMission has expired that password. To confirm this you will need to log in to XMission webmail and you should be prompted to update your password.
Trouble with spam or phishing emails
Thanks to customers who take the time to report phishing/spam email to us. Please remember, XMission will never ask for your password via email or web form. If you get a phishing/spam email and respond, we recommend you immediately update your password.
If you have any phishing/spam emails please continue to forward emails to spam@xmission.com or click on "Report as Spam" in your webmail interface.
Issues with XMission Voice
If you are having issues making or receiving phone calls, you should be able to resolve this by completing an extended power cycle of your installed telephone adapter. This adapter is most likely a Obihai or Cisco device. Please remove the power to this device and wait for three to five minutes. Once you power it back on it can take five to ten minutes for service to restore. If you have completed this and waited the full recommended time, XMission will need to do some more advanced troubleshooting.
By taking the steps above you should be able to get your service restored quickly. However, XMission recognizes that these issues may not resolve without additional support. Our support department is available 24/7. Again, we ask for your patience with possible lengthy hold times. If you do find yourself attempting to reach out for support and do not have a system-critical issue please try emailing us and we will respond within 24 to 48 hours.






Telecommuting for Better Health Online Security for Kids: Using Fun Passwords