Archived Article: Our 2014 in review + a preview of XMission 2015
PLEASE NOTE: This is an archived article. XMission is no longer HIPAA compliant. Please visit our SOC2 compliance page to learn about our recent certifications.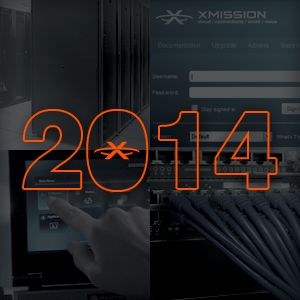 XMission made significant improvements to several products and kicked off a new professional services offering in 2014. Let's quickly review a few of our highlights and preview 2015!
Professional Services Launch
XMission now offers technical consultation and professional services. In addition to providing your business with hosting, connectivity, email, or phone service, XMission can now assist you with a variety of other technical projects. These include:
Programming (Javascript/jQuery, HTML/CSS, MySQL, Perl, PHP, Python, Ruby, and more)
Web development
Server configuration
Network management
Database tuning
Managed hosting
Telecommunications
and much more!
In 2014, XMission completed professional service projects for clients such as Country Explosion: Utah's Largest Music Festival, Breakbulk, and Tempest Enterprises.
By using XMission's professional services, your company will save on operational expenses. You'll find our rates extremely competitive, especially for the quality of work we deliver.
Colocation Upgrades
Data Center Cooling Optimization
XMission completed major, energy-saving upgrades in our data center in March, 2014. These upgrades included hot/cold aisle containment, switching from steam to adiabatic humidification, and water side economizing with new, highly efficient cooling towers.
These improvements matter to our colocation clients by providing them with an advanced and reliable environment for their servers. We anticipate a 35% total annual savings on power usage, and more efficient cooling.
You can read more about these upgrades here:
Data Center Cooling—a white paper
HIPAA Compliance
In December, XMission's data center and colocation product became HIPAA compliant.
Having HIPAA compliance assures our potential and existing customers that XMission's policies and procedures are sound according to HIPAA guidelines. These guidelines protect the confidentiality, integrity, and availability of electronic protected health information (ePHI).
Our Zimbra Boom
What a year for Email & Collaboration! XMission tripled our growth on the Zimbra Collaboration platform in 2014. This service continues to attract converts, especially admins who have had enough of managing an on-site Exchange server. If you need reliable, affordable, and always-private email for your business, you will want to demo Zimbra in 2015.
We plan on upgrading to version 8.5+ in 2015 while bringing additional redundancy and reliability to this service. XMission also plans on increasing our spam fighting efforts next year—always a difficult battle! Stay tuned to this blog for the latest upgrade news.
Now offering Zimbra Licensing
Not every business wants hosted email. For those hosting their own Zimbra server, we now also offer Zimbra licensing.
Become a Channel Partner
During 2014, we doubled the number of participants in our channel partner program. You should consider becoming an official channel partner in 2015, and let your advocacy of XMission generate income! We have a number of exciting new products and revenue opportunities for the new year.
Business Phone Services
In 2014, XMission Voice doubled the capacity of our SIP trunking service and added five new upstream partnerships to better improve our national footprint and lower our overall costs. We soon will migrate off an Asterisk based B2BUA to a redundant, dual server Kamailo proxy/SBC platform. This is currently being built to our own standards. And continued engineering feats are expected to bring lower costs to our residential users in the coming year as well.
Network upgrades
XMission's upstream bandwidth capacity has doubled. We have added 10 Gbps peers in the Pacific Northwest and on the East Coast. These peers create "on-network" routing to the largest Internet destinations in the world. Our direct peer with Netflix allows access to superHD and 4K streaming quality for those of our users that can receive it (this includes all UTOPIA subscribers). We expect this year to turn up another peer of equal size in southern California. And with UTOPIA's help, XMission has invested heavily in SLIX, the Salt Lake Internet eXchange, that allows local service providers and local businesses to keep Utah Internet traffic right here on Utah's own networks for the best possible connectivity within the state borders.
UTOPIA's future
XMission remains a full throated supporter of the Macquarie Capital proposal for the UTOPIA minicipal fiber network. If passed, XMission will likely participate in the basic Internet access program that guarantees high speed Internet to all residents of those cities. XMission is currently the largest residential provider on the UTOPIA network, and looks forward to seeing that user base grow exponentially in the coming months. Our 1 Gig residential Internet service on the UTOPIA network is simply the best in the country, and we hope we get the chance to bring that service to your home in 2015.
If you would like additional information about 2014 improvements and the 2015 roadmap, please contact our executive team:
Thanks for your business and continued support!






Improve sales and retention in 2 steps with "Send Later" in Zimbra Archived Article: Reduce Risk and Increase Revenue with a HIPAA Compliant Data Center