The $1 Fiber Optic Network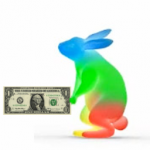 Provo City excitedly announced yesterday that Google was taking over their troubled iProvo network. Google has done a respectable job in Kansas City, and I'm sure they will do the same in Provo. My only criticism after hearing this yesterday is that Kansas had to literally give away the farm to install a monopoly over fiber/telephone/video/Internet service in their city.
Ever since iProvo launched, XMission has tried to negotiate with the city to provide service over their network. At one point it seemed like they would be open to other Internet providers wholesaling their infrastructure, and we had a couple of good talks with them, but shortly after they announced they would be selling the entire network to Broadweave/Veracity. I was present at that surprise announcement and I asked the mayor, "Do you think the sale of a public asset warrants public discussion?" Whether it be a Performing Arts Center or a fiber-optic network, if a city has a considerable cash outlay for a project, they should have public permission. Provo has repeatedly ignored this, and this time is no different.
This morning I learned more details about the iProvo deal. Google, a company with a $255.15 billion market cap, a company that has $48 billion in cash, proposes to buy iProvo, a network valued at $50 million, for $1. Google will not assume any of the debt, the Provo city taxpayer will continue paying that. The network will solely belong to Google and will not be open to other providers. If for some reason a Provo customer decides they don't appreciate Google's take on privacy or their endorsing warrantless monitoring of the Internet, they will have no other choice for service that can give them speed and reliability of fiber.
Google Fiber has a great consumer model. Everyone will have access to a minimum of a 5Mb connection for free. A gigabit connection is $70/month. Could XMission do the same? If you subtracted the cost of the infrastructure, and had ubiquitous service throughout a city, these numbers are easy to match and even beat. Ever since the dawn of Internet service to the home, it has been known that 99% of subscribers have minimal impact on the network. The cost of raw Internet bandwidth has plummeted over the last decade, and when you're Google, it is even cheaper. When Google announced their fiber project, they initially claimed their network would be open to other providers. When Kansas City launched, they quietly retracted that. Even though Google is promising a number of upgrades to iProvo, having a government sanctioned monopoly for $1 is a sweet deal that would have never been offered to a local provider like XMission. Those upgrades will be paid for by subscriber fees, and Google will make a profit. They wouldn't be doing this otherwise, nor would I.
The most unfortunate aspect of this deal is that cities will continue to lobby Google to monopolize their fiber service, and after the necessary deep concessions, Google will accept. Some day the US may wake up and find that we've installed another communications giant that needs to be broken up. I have lobbied hard for the past decade for open municipal fiber infrastructure, and will continue to do so, but so far, that idea is shrinking rather than growing.






Cloud Hosting Cuts Costs: Here's Why. Fitness in the digital age or how #quantifiedself entered my world by my wrist.