Cloud Hosting Cuts Costs: Here's Why.
Cloud is the hot technology buzzword of the day, with a new cloud product emerging from the corners of the web every hour. People evoke many different things when they say cloud, so it is important to have a common definition that makes sense to the non-technology-savvy folk.
A simple way to think about cloud services is that they provide Internet-accessible information technology; meaning that anyone with any skillset is able to access and maintain their Internet stuff from any Internet connection. Cloud services are just a way of saying that your stuff is available from anywhere. We have provided that kind of service in the technology sector for a long time, so why all the fuss now about "the cloud?"
The immediate win for a business (or individual) looking into cloud hosting is cost. The promise of cloud hosting is that you get a system that works for a monthly cost that scales with your needs.
Imagine that you own a ski-shop that sells ski and snowboard products online (which is easy for me to do, as I live in Utah). Your online business demands website hosting resources throughout the year, and as skiing is a highly winter-oriented business, the resource utilization looks something like this: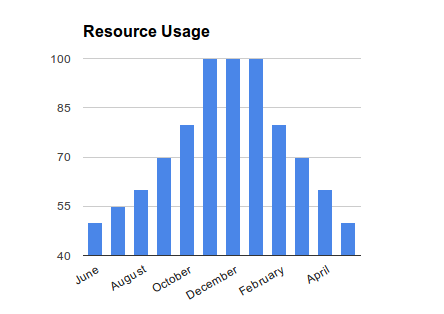 If you were to purchase a regular hosting package, you would need to buy resources that fit your maximum utilization, otherwise your site would run slow (or not at all). Your web hosting spend would match the red line in the chart below: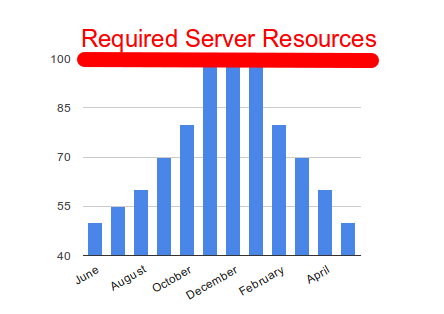 By utilizing XMission's Cloud Infrastructure product to host your ski shop online store, you can customize the resources by the hour, giving you the ability to specifically tailor your hosting spend based on what you need. Your web hosting spend would look like this when using XMission's Cloud Infrastructure product: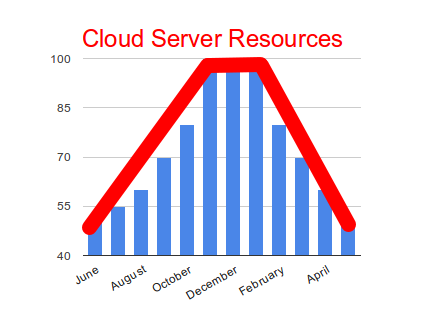 Leveraging XMission's Cloud Infrastructure as a small business means that you are able to cut costs while maintaining a quality of service that your customers expect from you. Flexibility and cost savings are only part of the story: find out more about our Cloud Infrastructure product today by visiting http://xmission.com/cloud






What is PCI Compliance and why should you care? Does Your Organization Need SOC 1 or SOC 2?