Qwest, XMission, and DSL
Please note: As of January 1, 2017, XMission no longer sells DSL services.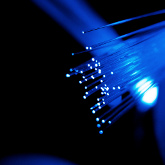 In 1997, XMission first started providing service over Qwest's DSL.  We have literally paid millions of dollars of revenue to Qwest for the privilege, all the while relieving them of the difficult task of providing excellent customer support.  In 2008, Qwest launched their "Fiber-to-the-Node" product which is usually falsely advertised as just plain "fiber".  Unlike the UTOPIA system which runs fiber optics all the way to the home, Qwest FTTN runs fiber to a neighborhood, then copper DSL lines to the customer.  Because of the subsequent shorter distances on copper, they are able to attain download speeds of up to 40Mbit to the customer and 5Mbit from the customer.  This is normally referred to "download" and "upload" respectively.
There is one key difference in the FTTN product.  Qwest is not not allowing 3rd party ISPs like XMission to sell their own service over it, as we traditionally have with their first DSL product.  In addition, Qwest has been notorious for disinformation and service problems that motivate customers to drop their current ISP and change over to Qwest.  Technical problems exist, such as radio interference that degrades existing XMission customer DSL speeds, sometimes making their Internet connection unusable.  The solution offered by Qwest was not to shield the radio interference, but to switch customers off XMission and to their own product.  We have also had reports and in one case, a recording, of Qwest sales representatives telling customers that Qwest's intent is to "eliminate" 3rd party ISPs.   Today, I received an email from a customer who was told by Qwest that XMission's equipment is "too slow" to handle FTTN service.  Considering that we service customers on fiber and in our data center with up to a gigabit in solid bandwidth, one has to wonder why Qwest feels the need to lie to sell their service.  There is no technical reason why Qwest could not allow 3rd party ISPs like XMission to provide service over their FTTN network.
XMission has been hemorrhaging DSL customers for the past year, and I really don't blame them for looking for bigger Internet connections.  I personally can only get 3Mbit download and 500Kbit upload to my own home and it is not enough bandwidth for me.  With Netflix, Hulu, Youtube, and other services demanding more and more bandwidth, homes will need larger and larger connections.  Unless they're in a UTOPIA connected city, chances are that they are going to choose from two companies to buy Internet from in the future, neither of them stellar.
As I have long advocated, the solution for this is not only to build municipal fiber networks like UTOPIA, but to regulate all data, telephone, and television providers that would otherwise run their own lines to your house, into using these systems as well.  Incumbent telephone and cable companies wouldn't otherwise spend millions lobbying and suing municipalities that take networking into their own hands if they had no choice but to use these systems as well.  In addition, problems like "net neutrality" become moot when you can dump your limiting ISP for another who gives you more freedom.  This is not where we are currently headed.  I have had a chance to listen to and question FCC representatives about the national broadband initiative.  It continues to be too little, too late.  If XMission can only provide limited Internet service to residential customers in the future it will continue to survive on its business class services.  Yet, it will be all of us who lose when local ISPs are run out of business, or can no longer provide service to the home.