8 Easy Steps to Integrate Zimbra with MS Outlook 2013
Hot on the heels of the new Microsoft Outlook 2013 comes the barrage of support calls dealing with broken emails that go something like…
"Help! I upgraded to Outlook 2013 and now my email is broken."
Our techs have you covered! In just minutes you will be good as new because in addition to providing awesome support, they also write amazing documentation for our XMission support wiki.  Let me give you a sample: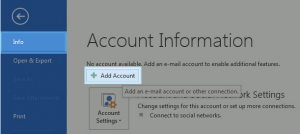 Properly add your Zimbra account to Outlook 2013.
8 steps to use XMission Email and Collaboration (powered by Zimbra) with Outlook 2013:
To add an email address in Outlook 2013, first go to the File menu option near the upper left-hand corner within Outlook.
With Info selected, click Add Account.
Select Manual setup or additional server types and click Next.
Select "POP or IMAP" and click Next.
Fill out the information on this window as seen in the example below (with your own unique E-mail address, username, and password) using "zimbra.xmission.com" as your mail servers and then click on the More Settings… button.
Go to the Outgoing Server tab and check the box that says My outgoing server (SMTP) requires authentication and ensure Use same settings as my incoming mail server is selected underneath that.
Now, go to the Advanced tab and change the Outgoing server (SMTP) port to 465 and select SSL for the preferred type of encryption. Then, simply click OK.
You will be returned to original "Account Settings" screen. From here, simply click Next.
Outlook will now test your account settings. Once it has succeeded, simply click Close from the test window and then Finish to complete the process.
The above instructions are also available on our wiki pages:
Have you tried this? How did it work for you?
Your business can try Zimbra for free for 2 months. Follow this link to the XMission store and use code, Outlook2013Zimbra to get started.






Salt Lake Valley Science & Engineering Fair = Kids Doing Really Cool Stuff Troubleshooting for the Inexperienced Introvert