Let's Talk Phishing – Part 1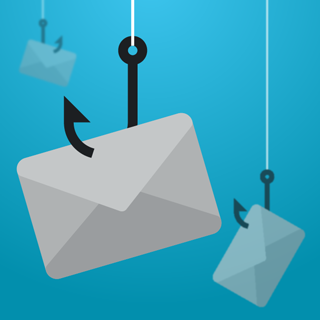 Phishing emails can be harder to identify than you think. Today, we dig in with part one of a two-part series meant to update our past posts on phishing:
Avoid the dangers of phishing.
They aren't who they say they are!
A phish is an attempt to trick you into providing your personal information to criminals pretending to be someone you know and trust such as your email provider, your bank, an established vendor, or even someone at your own company. Phishing can happen via email, text messages, telephone calls, and online surveys or ads.
Avoid getting hurt.
Replying with your credentials or following links inside phishing emails can do more damage than you might realize as phishers can:
Gain access to confidential or personal emails you receive from your bank, co-workers, family, and more.

Spam your address book contacts with phishing emails from your mailbox, putting them at greater risk of fraud.

Open new accounts, credit cards, loans, or contracts in your name.
Don't believe their story.
Generally, phishing emails are written to appear as if they were sent by a business whose services you may use so they can deceive you into providing personal information. They may:
Say they've noticed some suspicious activity or log-in attempts.
Claim there's a problem with your account or your payment information.
Say you must quickly confirm some personal information.
Include a fake invoice.
Ask you to click on a link to make a payment.
Say you're eligible to register for a government refund.
Offer a coupon for free stuff.
Install malware and viruses.
Next week, we will cover ways to identify and protect yourself from phishing. Until then, keep your email safe and secure with these easy steps:
Do not click links in emails unless you were expecting the email.

Never reply to emails that ask for personal or confidential




information.

Never share passwords via email or on questionable websites.
Forward any suspect email to spam@xmission.com and then promptly tag it as spam or move it to your junk folder.
Educate yourself. XMission wiki on phishing.
Lastly, as your email and Internet provider, XMission will never ask for personal information via email or delete your account if you do not update your personal details within a short period of time.
See our next post for this series later in the week!
John Webster,  XMission Email Product Manager and Zimbra evangelist, has worked at XMission for over 24 years doing his favorite thing: helping companies securely communicate with customers through technology to grow their business. When he's not uncovering Zimbra's secrets you might find him in our beautiful Utah mountains.  Connect with him on LinkedIn today!






PHP Support and WordPress Version Let's Talk Phishing – Part 2