XMission and UTOPIA Upgrade to 250Mbps!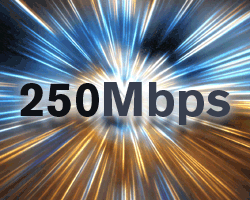 Today XMission and UTOPIA are thrilled to announce that the base speed of residential XMission Internet service on UTOPIA is being raised to 250Mbps, from 100Mbps, at no additional cost for XMission UTOPIA subscribers.
And here is the really good news.  Most existing XMission UTOPIA residential subscribers will qualify for a free upgrade to 250Mbps*.  
(*certain restrictions apply to long term, discounted service tiers. See "Legacy Subscribers" below)
So, how does this great news affect you?
New XMission Subscribers
All new UTOPIA orders as of November 16, 2015 will reflect this major upgrade for the same price XMission and UTOPIA have charged for years.  The basic XMission residential service on UTOPIA is now 250Mbps download and upload.  The cost is $35 to XMission, and $30 to UTOPIA (on a lease model).  Your total cost for 250Mbps is $65/month!
Once again, XMission and UTOPIA are the obvious choice for Internet for you if you have it in your area.  Don't know if you have UTOPIA?  Check here:
http://www.utopianet.org/shopping-cart/address-check/
Existing Users and Upgrades to 250Mbps
Now, this means that thousands of subscribers will be upgraded, and this will take some time. Your position in line is based on the fiber hardware in your home (Zhone or Allied Telesis) and your account type ("Legacy" or current).  Newer subscribers with a Zhone are mostly immediately eligible for an automatic upgrade.  Those with an older Allied Telesis will require a new fiber hardware install from UTOPIA.
Allied Telesis Access Portal
First, let's identify the roll out schedule for customers that will require a new fiber access portal in their homes. The older Allied Telesis units deployed by UTOPIA years ago are not powerful enough to push the full 250Mbps into your home and must be replaced.
This is a challenge, and in response UTOPIA has created a city-by-city rollout schedule. When the customer's city is on deck, that user will be directly informed so that he/she may schedule the upgrade through UTOPIA.   (NOTE:  don't want to wait?  See "Expedite" below)
250M UTOPIA City-by-City Rollout Schedule
| | |
| --- | --- |
| Layton, Midvale, West Valley | Q4 2015 – Q1 2016 |
| Brigham City, Tremonton | Q2 2016 – Q3 2016 |
| Orem, Lindon | Q4 2016 – Q1 2017 |
| Centerville, Murray | Q2 2017 |
| Payson | Q3 2017 |
Zhone Access Portal
If you have a newer Zhone which supports the upgrade to 250Mbps fully, UTOPIA is immediately starting automatic upgrades to your Internet service (if you are not on the older legacy pricing – see "Legacy Subscribers" below).  If you fit into this category, look for a second email letting you know that your speed increase is automatic and imminent.  This affects about one-third of our UTOPIA subscribers, and they should all see the new speeds anytime between now and early December.  At this writing, about half have already been upgraded!  (Not seeing the full speed?  See our "Customer Equipment Warning!" below)
Upgrade Plans for "Legacy" Subscribers
If you are an original subscriber to UTOPIA services from years back, chances you are a "legacy" subscriber. This means that you are grandfathered into a 50% discount on infrastructure fees, to a total of $15 per month.  Legacy UTOPIA users on XMission can identify themselves by the fee on their monthly invoice called "UTOPIA Maintenance Fee" (a few users may see this as "NAF" or "Network Access Fee").
In an effort for UTOPIA to streamline their contract options, UTOPIA is requiring any current legacy customer who would like to transition to the 250Mbps product to sign a new contract with UTOPIA.  For most, this is effectively a cost increase of $15 per month for the upgrade to 250Mbps.  To be clear, this normalizes their cost to that of all other UTOPIA subscribers.  There is no commitment for this upgrade, and it is entirely optional.  You are welcome to keep your current rate and keep your 100Mbps XMission UTOPIA service.  
Your new monthly price would be $65.00 vs your current $50.00 ($35 from provider and $30.00 from UTOPIA). And again, if you chose not to transition to the 250Mbps you can continue to stay on legacy pricing and keep receiving your current product of 100/100Mbps offering. If you would prefer to stay at 100Mbps, simply continue paying your current $50 per month. If you prefer to upgrade to 250Mbps, please read on.
Legacy Users with a Zhone Access Portal
Legacy subscribers, as defined above, who already have a Zhone access portal installed in their homes can call UTOPIA immediately to upgrade to the 250Mbps service upon activating the new month-to-month contract for leasing UTOPIA infrastructure. Only a very few number of UTOPIA subscribers fit into this category.
If you are a Legacy subscriber with a Zhone Access Portal installed and you're ready to upgrade, please call UTOPIA Customer Service any time between 9AM and 5PM Mon-Fri to establish a new contract at 801-613-3880.  You can do it today!
Legacy users with Allied Telesis
As stated earlier, subscribers that still operate on the Allied Telesis access portal will have to have their hardware physically replaced. This will require the work of a UTOPIA crew in your home, and managing this will require a significant effort on the part of UTOPIA. Rollout will follow the city-by-city schedule listed above, but will also require a new, month-to-month contract that will normalize your pricing to the current lease charge.  
As above, there is no commitment for this upgrade, and it is entirely optional.  You are welcome to keep your current rate and keep your 100Mbps XMission UTOPIA service.
UTOPIA Subscribers with Allied Telesis Access Portals ("non-legacy")
Many XMission subscribers with the Allied Telesis access portal installed will need to have a UTOPIA crew swap this device for a newer Zhone.  This will be performed on the schedule above at no cost to you.  Please consult this schedule to have a basic understanding as to when your city will be eligible for the upgrade installs.  You will be directly notified when UTOPIA begins to schedule upgrade visits and informed as to how you may schedule your own.
All upgrade visits will be scheduled directly through UTOPIA.  Please do not call XMission for this scheduling as we are unable to help you at this time.
Don't want to wait for your city?  Expedite your upgrade!
We know you're excited!  And so does UTOPIA.  In fact, we know that some people will not be able to contain their excitement to wait for their city scheduling to arrive.  UTOPIA has a plan for you!
For $50, UTOPIA users who require physical installation to replace their Allied Telesis access portal with a Zhone can jump ahead of the line.
Look for more information on this program in the near future. UTOPIA will begin upgrade installations shortly and will launch this program soon after.
Customer Equipment Warning!
XMission would like to make one last important observation.  Be aware that 250Mbps is a residential connection so advanced that most entry-level consumer grade home routers will not be powerful enough to support it.  Many top out at 100Mbps, and have wifi that maxes out at a fraction of this.
If your connection is upgraded and you are not experiencing close to the full 250Mbps speeds, first make sure your hardware can support it.  And it is not just routers, older computers may have on-board Ethernet ports that are only capable of 100Mbps data rates.  
We recommend when shopping for new equipment that you look for the promise of Gigabit WAN-to-LAN speeds, and the most powerful wifi available.  Same for your computer's Ethernet card. (Note:  even Gigabit-grade wireless routers may not be able to fully pass 250Mbps via wifi) XMission will soon publish recommended hardware specs and specific units.  Those interested in purchasing our initial recommendation, the TP-LINK Archer C7 AC1750 Dual Band Wireless AC Gigabit Router can do so through our affiliate program at Amazon.com at the following link:
TP-LINK Archer C7 AC1750 Dual Band Wireless AC Gigabit Router, 2.4GHz 450Mbps+5Ghz 1300Mbps, 2 USB Port, IPv6, Guest Network
But watch for more options soon! We're working on some fantastic solutions for your XMission Internet connection.
Conclusion
More questions?  Please email XMission customer service at support@xmission.com.  We request you not call on this subject unless you have an emergency of some sort, due to the simple fact that, while we are well staffed to serve you, we are not able to handle all of our UTOPIA customers calling all at once.
Thanks for being our subscriber!  XMission and UTOPIA remain committed to bringing you the best Internet connection in Utah, and we thank you for your continued support of this public/private project.






Migrate your Email from Google Apps to Zimbra Collaboration Stuff We Like: Gift Suggestions from XMission Staff