Art Fans Unite: XMission proudly sponsors the 2014 Utah Arts Festival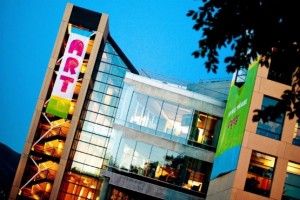 We love the summer festival season in downtown Salt Lake City! This year's Utah Arts Festival kicks off on Thursday, June 26 and runs through Sunday, June 29 at Library Square.
XMission has supported the Utah Arts Festival for the past fourteen years by sponsoring the lively Hospitality Patio. We also provide free wireless Internet at Library Square year-round.
You too can help sustain the Utah Arts Festival by attending their Big Deal Brunch on Sunday, June 29 from 11 a.m. to 1 p.m. on the XMission Hospitality Patio. Tickets are $50 for brunch, juice, coffee, two grown-up drinks, and entertainment from the Mark Chaney Quartet, plus admission to the festival for the day. Seating is limited so purchase your tickets today!
Once again, Utah Arts Festival attendees receive free entrance to The Leonardo during the Festival, and can request a voucher at the Festival Box Office for discounted tickets to "Animal Inside Out, A Body Worlds Production."
We also encourage you to visit Makers at the Festival, presented by our friends at EnjiGo Makerspace. Their activities include laser cutter demos, art from plastic, duct tape tailoring, and more.
For a new and improved Festival experience, download the Utah Arts Festival's ART FAN mobile app for iPhone and Android and create personalized event lists, access artist information, activities, and more.
Adult admission is $12 at the gate, $8 in advance. Discounted adult admission is available for opening day at $10 and $6 lunchtime special on Thursday and Friday. Seniors 65 and above are $6. Children 12 and under are free. Be an ART FAN for the entire festival with a four-day pass, for just $35.
See you at the Festival!






Zimbra filter trick texts you when important emails arrive Disaster Recovery Finally Affordable for SMBs