The Fruit of Competition
Please note: As of January 1, 2017, XMission no longer sells DSL services.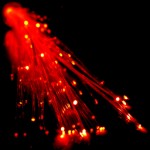 I am proud to announce that our gigabit residential offering on UTOPIA has dropped in price to $70 (UTOPIA charges included, and can vary up to $100 total in some cases).
Cynics may point to the fact that this matches the Google Fiber offering on iProvo, and you know, they're right. When there is robust competition, the consumer wins.
Additionally, with UTOPIA, if you hate the service your current provider is giving you, you can easily switch to another provider. If your Internet service is not giving you answers about individual privacy and warrantless surveillance, pick one who does.
With robust competition on a level playing field, the customer has choice. A decade ago when Salt Lake City was considering UTOPIA, Qwest made all sorts of blue sky promises. Today, I still have one choice, the same choice as 10 years ago, if I want to provide my family with XMission at home, 3Mbit DSL. The only things that have changed with Qwest is their elimination of third party Internet providers from their residential services, and their name.
Regardless of Google, Provo is still financing their fiber network with a $7 monthly charge on all water bills. Although this could be alternately financed through a property tax increase, the immediate benefits are clear both in Provo and UTOPIA cities. Gigabit Internet for about $70 and the potential for low to no-cost telephony. A slightly higher tax for significantly lower prices on essential services. With more and more video moving online to providers like Netflix and Apple, Comcast has shown intent to restrict those offerings in favor of their own television service. Many people pay a $50/month premium to DirecTV to watch only HBO. If and when they start selling direct online and cut out the cable/satellite middleman, their customer base and profits will increase. Yet the captive cable and satellite customers will continue to pay their monopoly tax. The incumbents will fight this tooth and nail because their profits revolve around customers with no other option.
I envision a day when you plug your computer or wireless access point into a wall jack, the first web page you see is a list of Internet providers and the services they provide. Click one, enter your billing information, and away you go. This is already a reality in countries that have undertaken municipal and government projects to provide fiber. It could be the same here, but it isn't going to come from the private sector.
The future is clear. Talk to your city & county councils and mayor's offices, and let them know you want competition and choice. Let's get these data highways built.






Data Centers: A Dramatically Changing Industry 5 things I learned about email at the Zimbra technical conference.