Four Reasons Your Business Should Use XMission SIP Trunking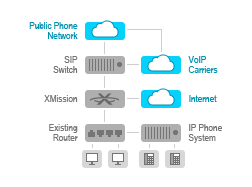 Believe it or not, industry projections show that by 2015 there will be more SIP-powered phones than traditional phone services in American businesses.
In 2005, less than 10% of American businesses used VoIP- or SIP-related services for their office phone systems. In 2013, that number is 38% and is compounding every year. AT&T, the largest provider of traditional local and long distance service in America, has officially petitioned the FCC to aid them in transitioning away from traditional phone service into an all IP-based network. Further, it is projected that T1 lines will continue to decline as the preferred delivery of both SIP and traditional telephony services, and will completely lose that majority by 2017.*
As usual, XMission is a technology leader for this Internet-based service.
So, what is a SIP Trunk?  Your PBX uses trunking to send and receive phone calls. A SIP trunk provides this service by using IP (Internet) rather than the legacy, switched telephone network. As with analog trunking, one SIP trunk allows for one phone call (sometimes called a "channel" or a "call path").
Why are more and more Utah businesses choosing SIP Trunking service?  And why are so many of those using XMission SIP Trunking?  Here are several reasons:
SIP trunks are less expensive.  XMission's small office Flat Rate SIP Trunking starts at $25 per line and includes 3000 pooled minutes.  Larger businesses can buy trunks for $20 and pay per minute costs well under those of traditional carriers.
SIP Trunks are convenient.  You can call up XMission today and have a live SIP Trunk in minutes.  And because SIP Trunks are unbundled from a T1 delivery mechanism, you aren't forced to commit to 23 channels.  Buy what you need.  Add lines as you need.
SIP Trunks work on your existing phone system.  Even if you have an older analog PBX that your office is fully committed to, you can migrate your dial tone to SIP trunk with a simple Analog Telephone Adapter that XMission can provide and manage for you.  As usual, XMission solves your IT problems.
SIP Trunks can use your existing Internet connection.  Turn off expensive, dedicated T1 circuits.  XMission can provide equipment that will prioritize and manage your SIP traffic over the Internet connection you are already paying for.  And XMission Internet access subscribers receive private transit directly to our SIP switch at a discounted rate.
XMission has been providing SIP services to clients for the better part of the last decade. Our tradition of superior service and support extends to the high touch SIP service we provide to Utah businesses.
Call our sales team today and ask them how SIP Trunking may improve your business.
*http://www.infonetics.com/pr/2013/SIP-Trunking-and-SBC-Enterprise-Survey-Highlights.asp
*http://www.prnewswire.com/news-releases/new-survey-shows-voice-over-internet-protocol-voip-taking-root-in-business-54234557.html
*http://www.att.com/Common/about_us/files/pdf/fcc_filing.pdf






Upcoming XMission Data Center Upgrades How XMission spam and virus filtering works.